Special Wedding & Anniversary Gifts
If you are looking for a really unusual Wedding or Anniversary Gift, which the couple will appreciate, you will love this bespoke product.
The Glass

The 'Rock Tablet' is hand made in The Highlands of Scotland and is supplied with a certificate of authenticity, rolled and tied with tartan ribbon, guaranteeing its provenance. The 12mm glass features 'running scallops', a patented design, the secret of which is known to only a handful of people. The edges emulate the rugged Highlands of Scotland, but are silky smooth to touch.

Your Special Wedding Gift, or Special Anniversary Gift will be packaged securely in a branded rigid blue box. This unusual Wedding or Anniversary Gift can be delivered to any address, worldwide.

The Engraving

The engraved Wedding or Anniversary Gift will be deeply engraved on the front surface. Artwork for the crests, Celtic Swans and Borders along with your text are prepared and special stencils made. The stencils are applied to the surface of the glass and sandblasted, using an extremely fine aluminium oxide. It is at this point that your bespoke engraved Wedding or Anniversary Gift comes to life!

The Wedding Tablet, shown without any colour infill - order 8003.22R

An Anniversary version is also available - order 8003.24R
Researching your Special Wedding Present or Anniversary Gift
We engrave both the ladies maiden name's and the husband's name's crests, to commemorate the joining of two families in matrimony.
Please note that it is important to engrave the ladies name (or reference to her title e.g. Mum) above her crest - and the man's name (or e.g. Dad) above his crest - so please tell us which is which.
As is customary, the ladies name (and crest) always appears first, that is to say, on the left of the man's name (and crest). Protocol is very important when it comes to buying a unique wedding or anniversary gift!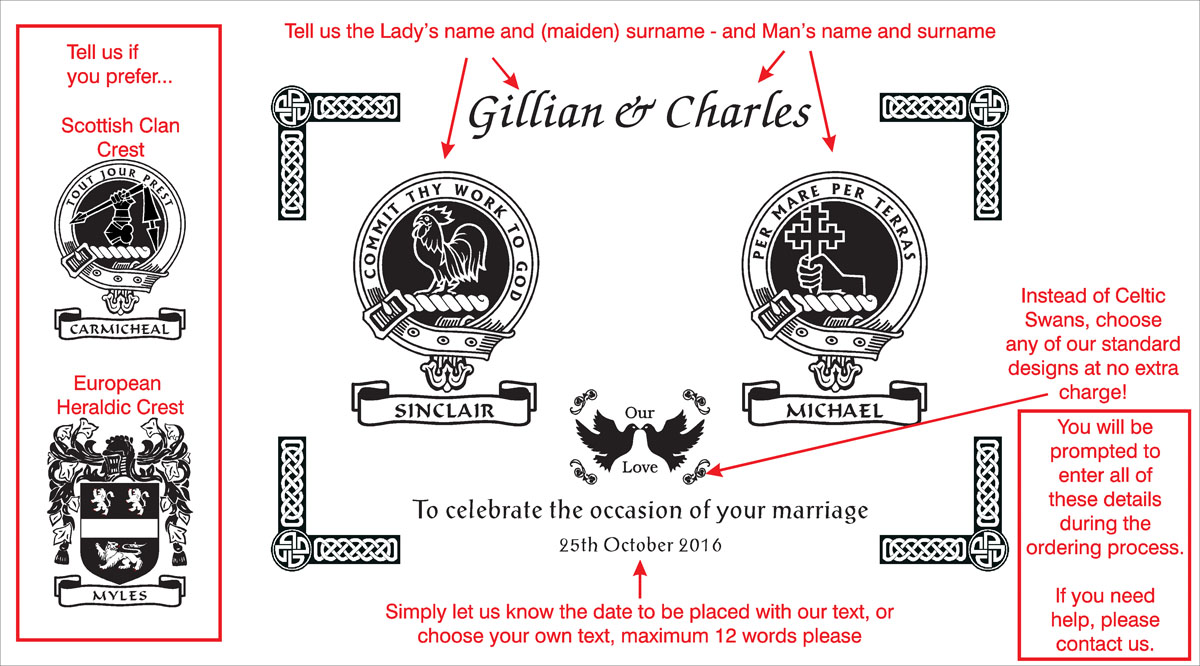 European Heraldic Crests
We have access to a library of European heraldic crests, there being over half a million different surnames, researching can take us time. We research the oldest known crest for each surname (warning, around 5% of European names do not have an associated crest and we will not 'make one up'; all are authentic. This being the case, we will gladly refund your money). The shield is extracted from the crest and inserted into our standard embellishment.
Scottish Clan Crests
There are around 150 different crests and some names are 'Septs' of others. We carefully select the correct crests for the names given and may need to ask questions if there is more than one crest associated with a popular name e.g MacDonald.
Combined with deeply engraved Celtic designs "The Loving Swans" and Celtic Borders, which surround the text commemorating either the Wedding or Anniversary of the couple, the crests we research are carefully laid out and deeply engraved to make a pleasing layout. Of course, if there is a component you wish to be left out, just make a note of it on your order.
Unique Anniversary and Wedding
Gifts

We also have the facilities, as you can see from the image on the right, to infill the engraving with colour, to provide a truly unique Anniversary or Wedding Gift.

As you can see, a Golden Wedding Anniversary Gift can be infilled with gold. A Ruby Wedding Anniversary can be infilled with Red - and a 25th Wedding Anniversary Gift can be infilled with Silver.

The colour infill is placed into the borders and text, as shown in the photograph. White is great for Weddings!

The Anniversary Tablet shown with colour infill - order 8003.25R

A Wedding version is also available - order 8003.23R
How to Order your Special Wedding Gift or Special Anniversary Gift.
We need to know a few pieces of important information, you will be prompted to enter these during the ordering process:
1) The first names of the couple, entering the ladies name first. (If they are a relation, you can enter these instead, i.e. Mum & Dad)
2) The maiden name of the lady and the husband's surname, entering the ladies name first.
3) The date for the inscription, and the number for anniversary pieces.
4) For Tablets with colour infill, you will also be asked for your preference of colour, choosing one of the following: Gold, Red, Silver, White, Light Blue, Dark Blue, Green, Yellow.
Please ensure we have your daytime 'phone number, to contact you if necessary.
We look forward to creating a really unique and special Wedding or Anniversary Gift for you!